Bazzaz Performance Z-Fi QS Fuel Control Kit with Quick Shifter
---
The Bazzaz Z-Fi QS system comes with all of the same things that the base model Z-Fi has but with the addition of a programmable quick shifter function and all the components necessary to install this device. This is perfect for anyone looking to get maximum performance from their bike with no need to buy any other components such as add-on black boxes just to add a quick shift feature or, on bikes equipped with eight fuel injectors, run the upper injectors. Every Bazzaz unit comes pre-programmed with two maps: one that employs the stock, unmodified fuel map and the other for slip-on applications. Even the quick shifter function has pre-programmed gear-dependant kill times that are based on Bazzaz Performance's own R&D for each bike with longer delays in the lower gears and shorter delays in higher gears to help keep your transmission in good working order while at the same time reducing lap times.
With the included software, the user can easily make adjustments to both the bike's fuel curve and the quick shifter cutout times. You can also make changes without having your computer attached to the Bazzaz unit and upload them next time you plug it in and run the Bazzaz software. Dyno tuners too, can easily work with this system to make changes to your bike's fuel map or, if you wish to avoid a trip to the dyno, you can purchase an additional Bazzaz Z-AFM self-mapping device that actually allows you to make fueling adjustments to your bike based upon current atmospheric, fuel and temperature conditions. A very trick feature for situations in which you don't have access to the fuel your bike was originally mapped with, or when adding or changing an exhaust, for example.
The quick shifter feature is based upon Bazzaz's experience with their original QS4 stand-alone quick shifter. While the older system worked quite well, there were some reliability issues with the shift sensor itself that were noted. Improvements were made and the new version is now included with the Bazzaz Z-Fi QS system shown here. In addition, an application-specific shift rod is included with the quick shift sensor so you only need to remove the OEM shift rod and replace it with what's included in the kit. And all of this is done without the need to splice any wires or solder any new connections.
Everything you need to install the quick shifter, Z-Fi QS ECU kit and the software to run it is included in the box. The device works as a go-between your bike's OEM ECU, fuel injection and ignition systems to get the maximum performance possible from your bike.
We have these readily available in reverse or standard shift patterns for the following motorcycles with more applications for Aprilia, Ducati, KTM and Triumph on the way:
Honda
CBR600RR 2005-2010
CBR1000RR all years
Kawasaki
ZX6R 2007-2010
ZX10R 2006-2010
Suzuki
GSXR600 2006 and up
GSXR750 2006 and up
GSXR1000 2005 and up
GSX1300R all years
Yamaha
YZF-R6v 2006-2010
YZF-R1 2006-2010
Bazzaz Performance Products are not yet available on our website - call Chris at 866-931-6644 ext 810 for fast shipping and expert advice. You can also email us at CHRIS at RIDERSDISCOUNT dot COM with BAZZAZ ZFIQS in the subject line and tell us what bike you have, the shift pattern you want (standard or reverse) and we'll get back to you right away.
Everything that comes with the Bazzaz ZFi QS system.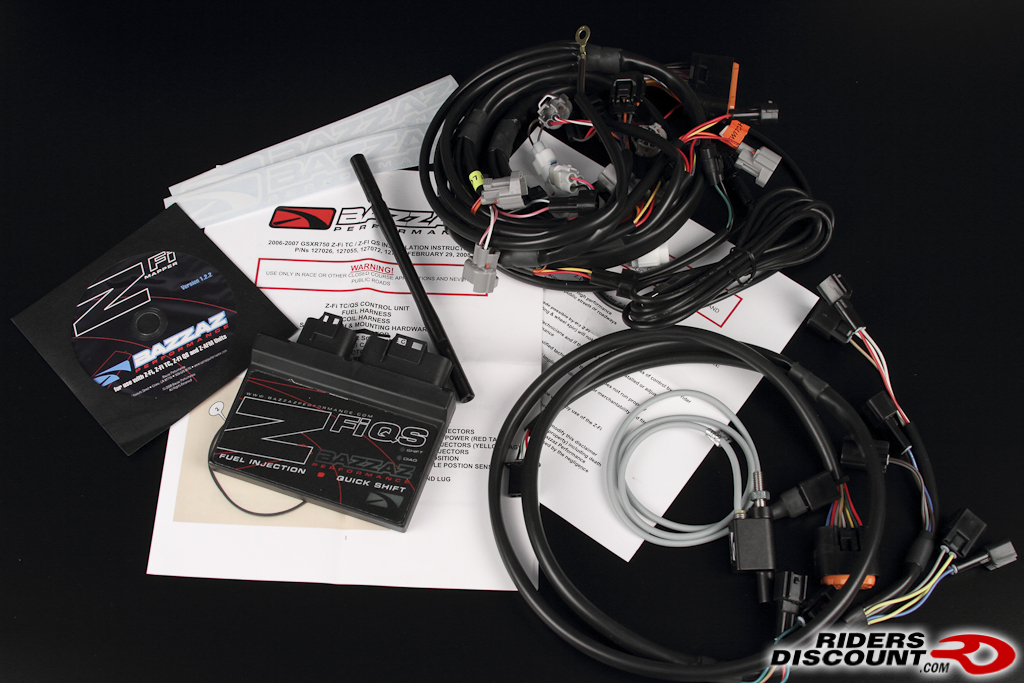 The quality of the wire harness is top notch with connectors that perfectly match their OEM counterparts for reliable, watertight connections.
Shown here is the new quick shift sensor and model-specific shift rod. The sensor itself is small, light and less bulky than most sensors on the market today.
The Bazzaz Z-AFM can be added to any Z-Fi kit at anytime for a truly one-off custom fuel map that's perfectly suited to your bike. With this system, optimizing power output is as simple as plugging in a laptop computer and using the included software to make the changes you want.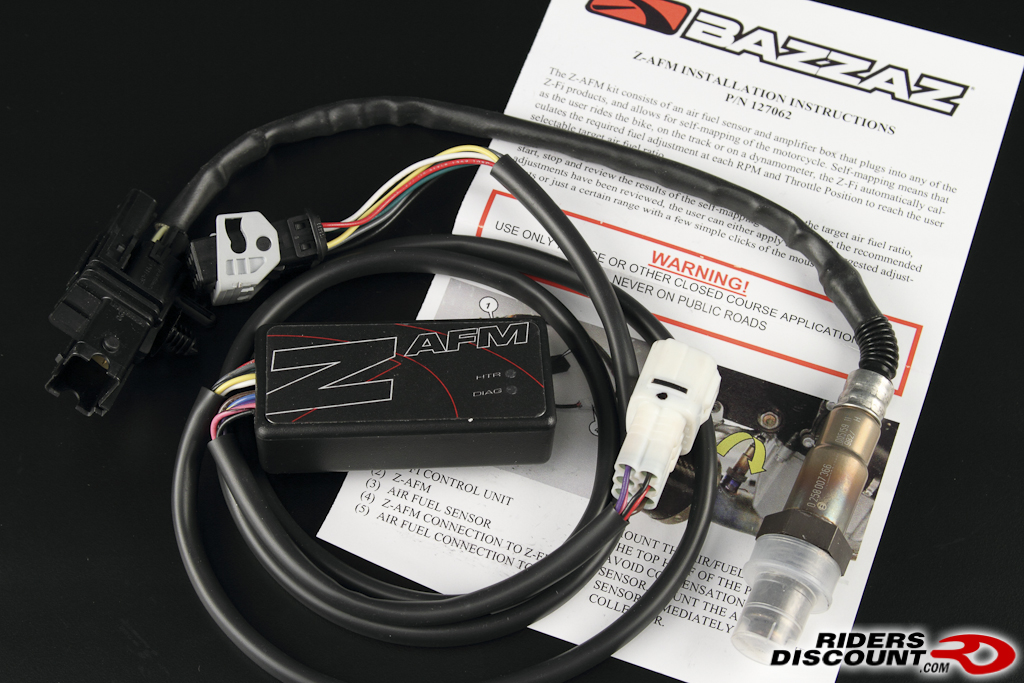 A sample screen shot from Z-Fi software that is included with the ZFiQS system. From here, it is possible to load two maps to the Bazzaz ECU and with the map select switch (sold separately) you can switch between the two maps on the fly. You can also trim fueling by gear and easily make adjustments in each cell or a block of cells.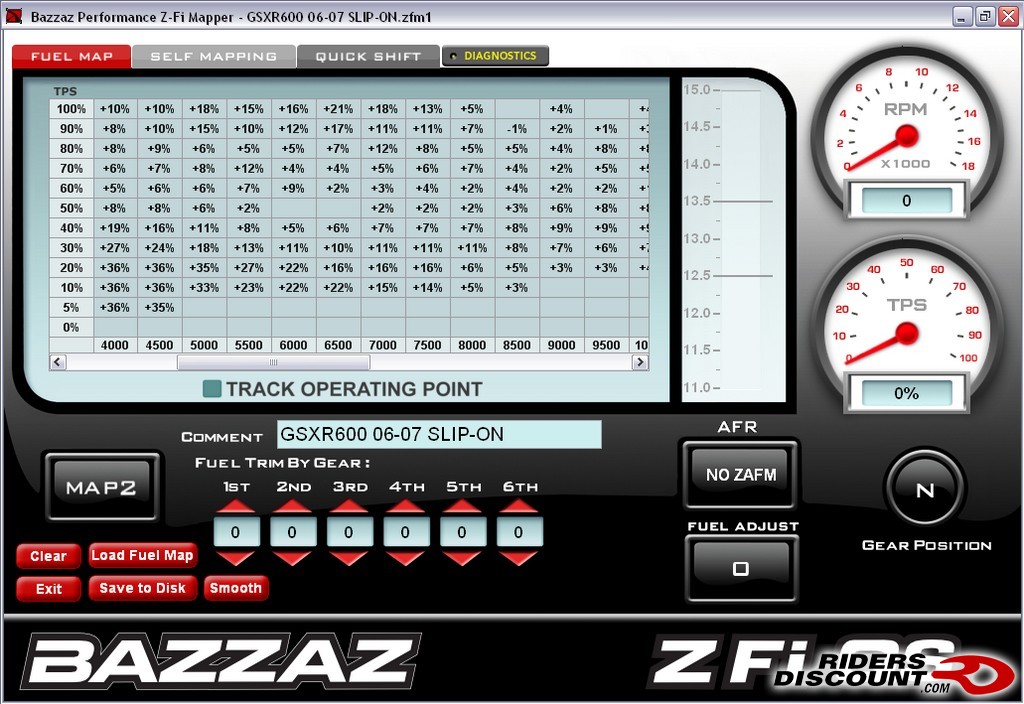 Quick shifter kill times are adjustable by gear.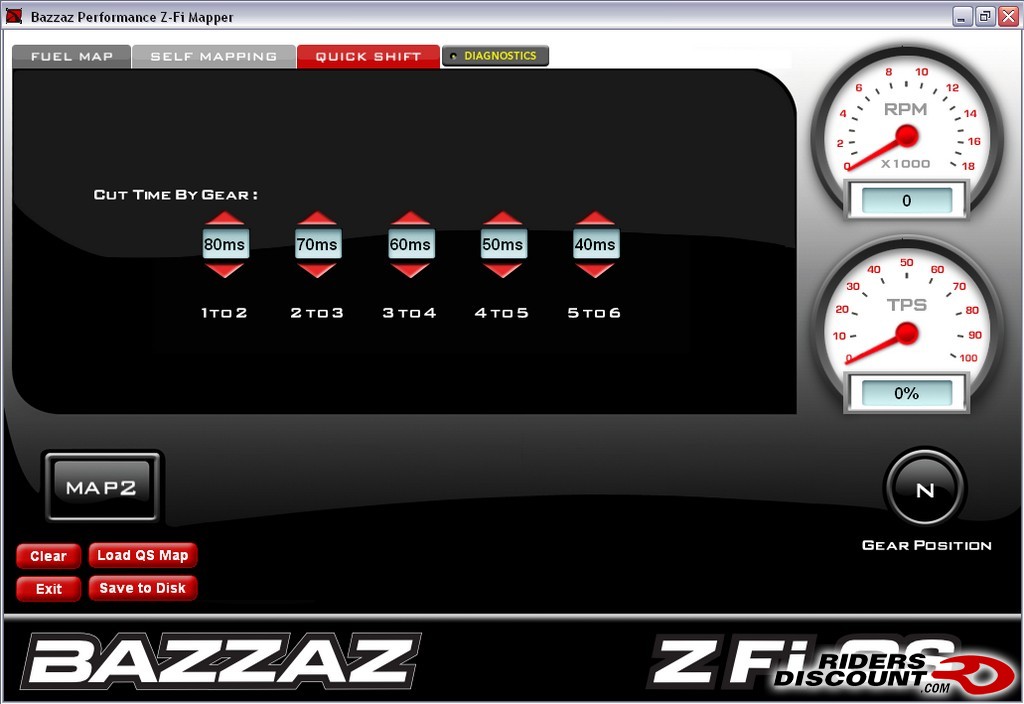 Technology that used to be reserved only for factory race teams can now be yours at a very reasonable price.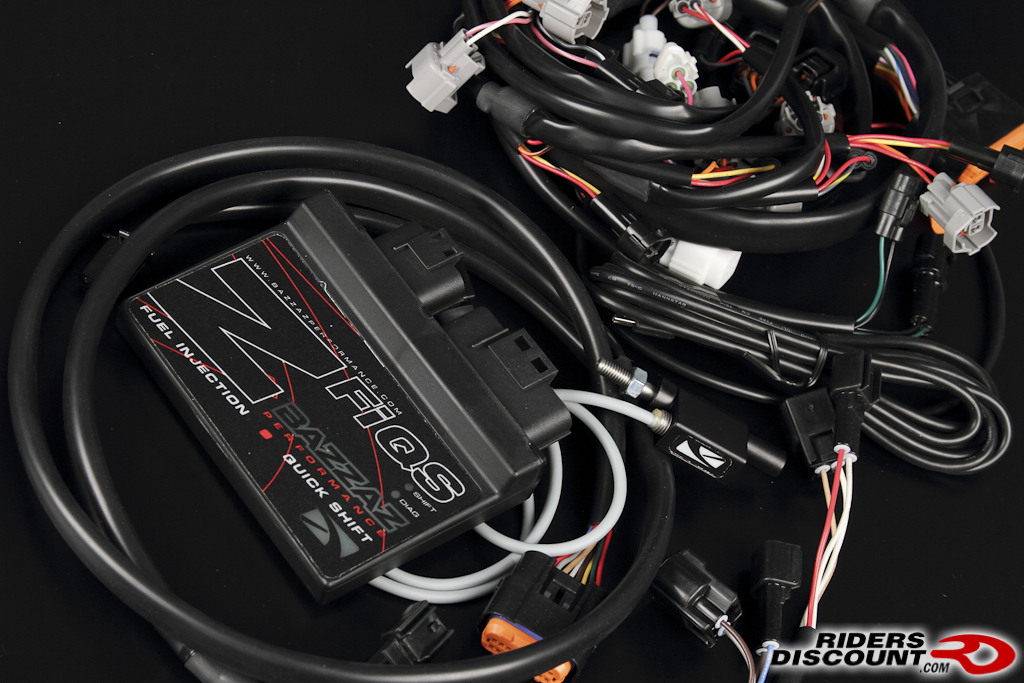 Posting Rules

You may not post new threads

You may not post replies

You may not post attachments

You may not edit your posts

---

HTML code is Off

---