Newbie
Join Date: Aug 2007
Location: Southeast Michigan
Posts: 8
Returning Member
---
Hey guys, I was never very active on this site, as you may be able to tell by my post count. . . Anyways, I wanted to check back in. It's been almost 3 years since I signed up here, and I've gone through a few changes since last I was here. . . Last time I signed up here, I was college music student, and I did something TREMENDOUSLY STUPID and financed a new motorcycle. Long story short, I lost my job, defaulted on the bike, and wound up voluntarily forfeiting it. It was sold at auction, and I JUST paid off the balance from the loan last month. I made my mistake, it will NEVER happen again (I don't have credit cards, and if I can't pay cash for it, I don't need it)
Anyways, I enlisted in the Army after I was no longer able to pay for college. I just got out last month, and realized how much I missed my bike. I knew the mistake I made before, and decided to buy a used bike that needed some work. I picked up my '93 GSXR 750 for $500 about a week ago, and I've started doing some work to it. I am slowly budgeting for parts that need replaced, and I should have the bike back on the road in a couple of weeks.
Here are some pics of the bike taken after I unloaded it from the truck after picking it up: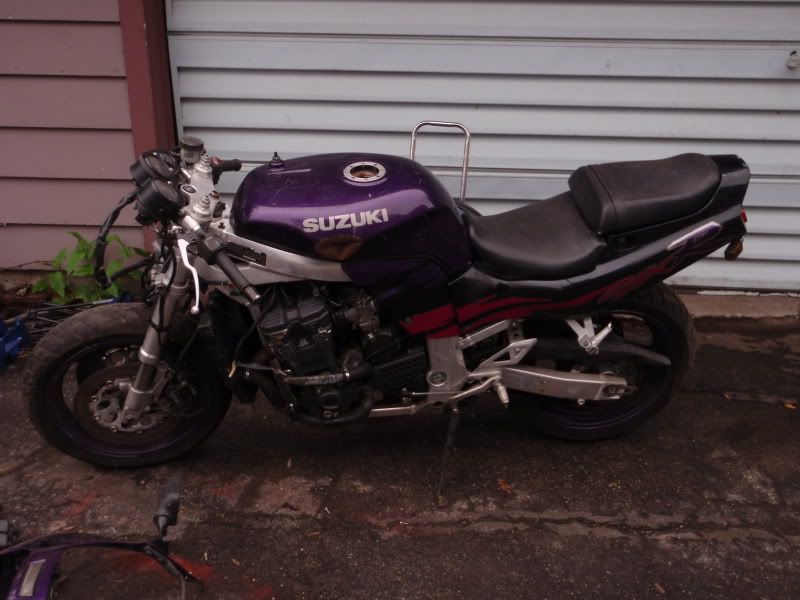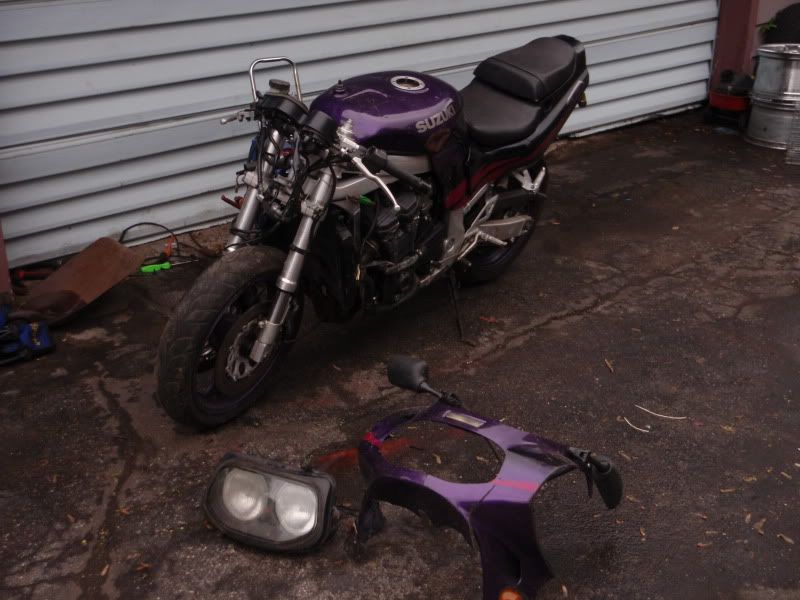 Here are a couple taken after I sanded and painted the fairings flat black:
I'm going for the Streetfighter look on this bike, mostly to save some money on parts, but also for the fact that I want to make it unique. lol I still need to get a new tank, fuel petcock, front fork tubes, gauge cluster, headlight, turn signals, and mirrors. I've got most of the parts sourced already, but a couple of things I still have to decide on.
Newbie
Join Date: Aug 2007
Location: Southeast Michigan
Posts: 8
Oh yeah, forgot to mention, the next project on the list is to get those ugly purple rims painted. . . I'm leaning towards silver metallic right now, I think it will look right at home with the unpainted aluminum frame, and help prevent the bike from looking too overdone.