Discussion Starter
·
#1
·
Oberon "Bar End" Turn Signals: Black/Pr
or
OBERON "Bar End" Turn Signals: Silver/Pr.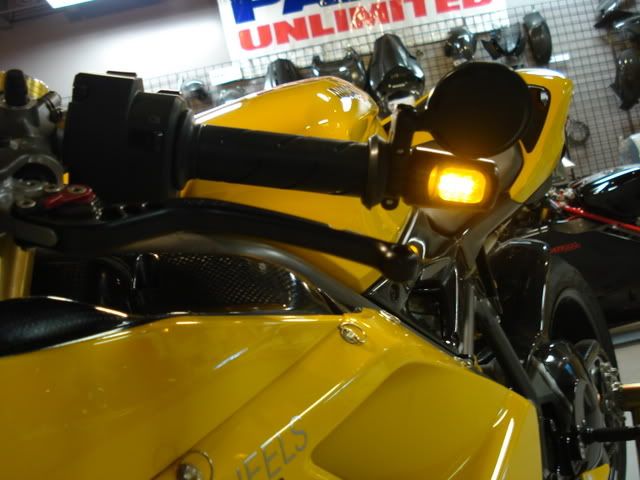 NEW bi-directional LED handle bar mounted motorcycle indicators
from Oberon Performance CAD/CAM designed to increase safety and to alleviate most of the current LED aftermarket indicators issues.
Benefits:
Improved motorcycle safety
Highly visible mounted on end of handlebars
Extra wide angle viewing pattern
Visible from both front and back
Instant illumination of indicator
Small current draw
Billet Aluminium
High power amber indicator LED
Elegant design
Stainless steel fasteners
Collets to suit 14mm to 22mm ID of Handlebar (Please select size)
By using 8 high power wide angle LED on each side of the circuit board the indicator is visible from both the front and back at the same time with equal luminosity. This has a substantial improvement on the visibity of the indicators which adds highly to the safety of the motorcycle and rider. Mounting on the end of the handle bar provides the greatest opportunity to be seen. LED's offer a much longer life than ordinary filament indicator bulbs.
Often LED's last longer than the motorcycle in which they are fitted. With the small current draw of LED's battery life is improved. LED's do not have a time delay on operation so they are instantly on at full power.
One of the common complaints of aftermarket motorcycle indicators is the quality of the lenses. Our unique lens envelopes the LED circuit board completely by 360 degrees providing a melt proof, shake proof and loss proof cover.
These indicators are CNC machined from billet aluminium and are available in black or silver anodised. Complete with stainless steel fasteners, sleeved cable and a brass collet to allow fitting to hollow handlebars for most motorcycle. 14mm to 22mm Indicator body size: 50mm long x 35mm dia
__________________
* Forum Members:
Register on the Motowheels website for passwords to access discounts on non-sale item. The sign up is under the log in box.