Discussion Starter
·
#1
·

With decades of experience in the business and a well-earned great reputation, Bridgestone Tires can be considered one of the leaders in the industry. The company designs and produces a wide range of tires for all kinds of vehicles and all types and styles of motorcycles. With a variety of sizes, construction types, thread patterns, and styles, you can be sure to find the right pair of tires for your machine on the digital shelves of our store.
If you need well-rounded tires that provide riding stability, predictable handling, good mileage, and excellent overall performance and comfort, choose Bridgestone tires. This fall, you can save some money while buying a set of tires at MOTORCYCLEiD.com. Choose a pair of qualifying tires in our catalog and get up to a $50 Visa Prepaid Card! Do not hesitate! This exclusive offer expires on November 30, 2021. Please fill in the following
PDF
form to get your card.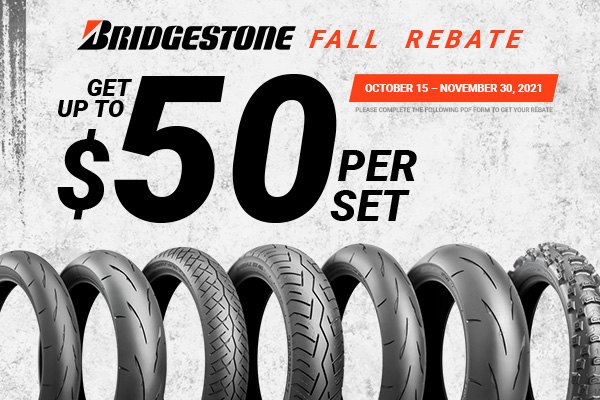 To browse the full catalog of Bridgestone tires, click the "Shop Now" button below:

Give our sales team a call at 888.903.4344 (Toll Free) or 1.732.867.9995 (International) and we'll gladly answer all your questions.​